- World's Smallest Particle, VOC and Barometer Sensors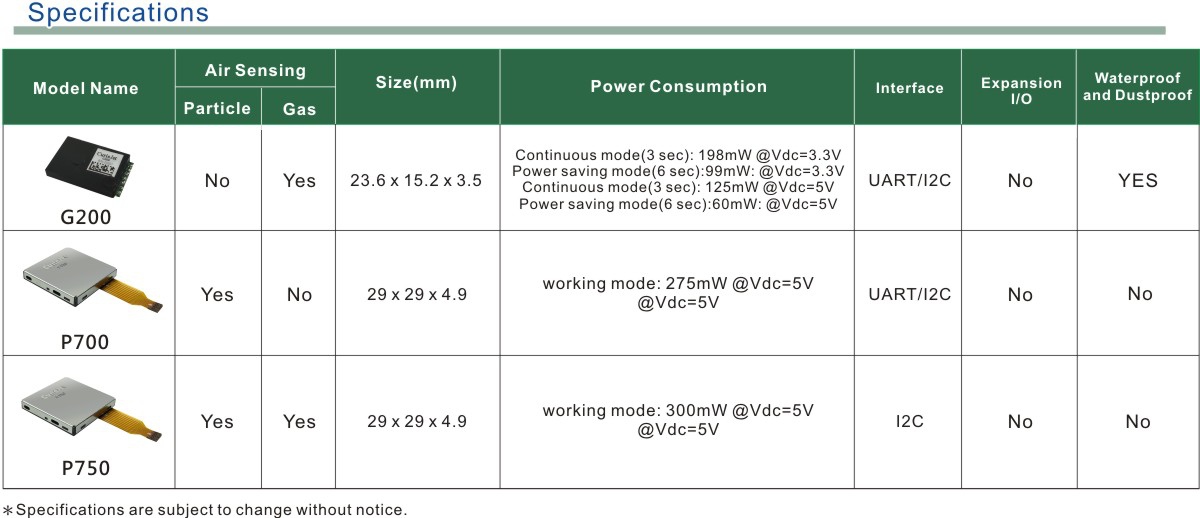 MicroJet Technology has designed a series of Pump-driven Environmental Air Pollution Sensor Monitor Modules with its world-leading patented technology. By leveraging our CurieJet® customized Air Pump "core module", MicroJet Technology has developed a series of Air Monitor Modules with extremely small size and can even be integrated into Smart Watch or Mobile Phone for air quality monitoring. Air Pump is very important to circulate air actively in time and drive air sensor to respond quickly. We inhale more than 10,000 liters of air per day. The very air we breathe is growing dangerously polluted, nine out of ten people now breathe polluted air, which kills 7 million people every year. That explains why personal air monitoring in time are important. Click here for reference

Air pollutions are mainly in Particulate matters(PM)and Gaseous pollutants forms. Particulate matters(PM) air pollution may be measured in PM2.5, PM10 and even PM1.0 level fine particulate matters and dust. Gaseous pollutants air pollution may be measured in VOCs(Volatile Organic Compounds) volatile harmful gas, formaldehyde (HCHO/ CH2O) or other cancer-causing material.
G200
G200 Gas Sensor Module integrates a VOC Index BME680 Environmental Sensor with our customized air pump, air chamber and MCU. G200 has very tiny size of 23.6 x 15.2 x 3.5 mm. It is also water-proof and dust-proof designed. Upon request, Atmospheric Barometric Air Pressure measurement can also be supported. We can also custom different Gas Sensors for new models of gas sensor modules.
P700
P700 Particle Sensor Module uses laser light with Mie scattering theory to measure PM2.5, PM10 and even PM1.0 particulate matter and dust in the air. It adopts our customized air pump, air chamber and MCU and is the world's smallest optical laser PM 2.5 sensor with size only 29 x 29 x 4.9 mm. It is the smallest size in the world with only 1/4 volume of other optical laser PM2.5 sensors.
P750
P750 Particle & Gas Sensor, with size only 29x 29x 4.9 mm, is the world's smallest all-in-one air sensor with only 1/16 volume compared with others. P750 uses laser light with Mie scattering theory to measure PM2.5, PM10 and even PM1.0. P750 also integrates BME680 Environmental Sensor that can detect VOC gas, show the ventilation status, sense barometric pressure for weather glass or altitude difference. It also detects ethanol and may be developed as alcohol breath tester, or drunk driving prevention alarm system.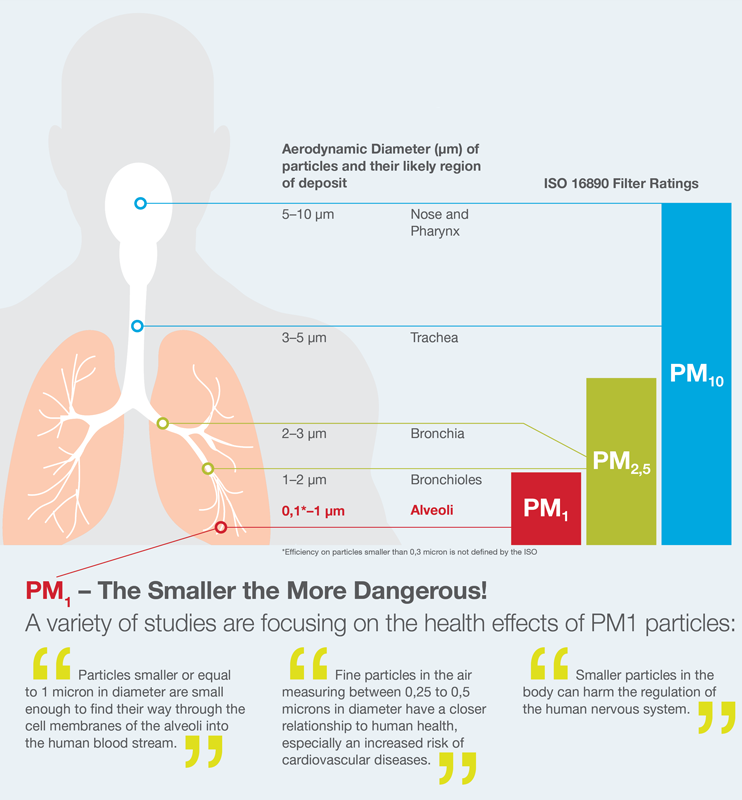 Particulate matters(PM) air pollution may be measured in PM2.5, PM10 and even PM1.0 level fine particulate matters and dust. The newly ISO 16890 Global Air Filtration Standard classifications are based on where particles are deposited in the human lung. PM1 are extremely fine particles and a major subset of PM2.5 that are likely to reach deeper into the body than PM2.5 making them even more harmful as they can reach other organs through the bloodstream. There are more evidences show that COVID-19 coronavirus also spreads through aerosols. PM1 also possible cause for poor visibility. Now, it becomes mandatory for air quality monitors and air purifiers adopt PM1 as measuring parameters, not only PM2.5 & PM10.
( PM1 matters more than PM2.5 )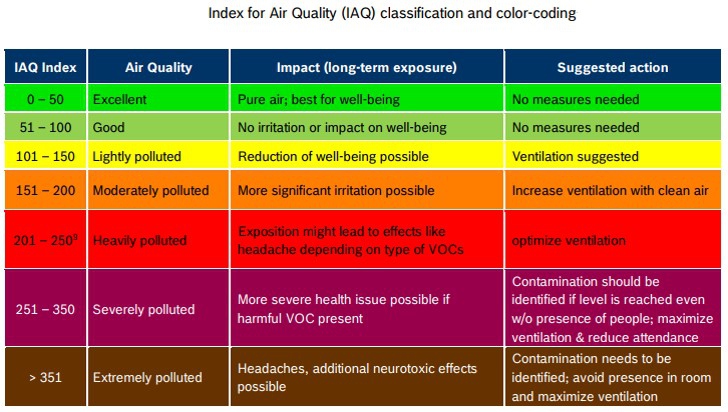 CurieJet® P750 can detect Volatile Organic Compounds (VOC) from paints (such as formaldehyde), lacquers, paint strippers, cleaning supplies, furnishings, office equipment, glues, adhesives and alcohol. The IAQ (Index for Air Quality)index, valued from 0 to 500, can be deemed as VOC Index to reflect different gaseous pollutants risks of TVOC Level.

Upon request, breath-VOC (b-VOC) which represents the most important compounds in an exhaled breath of humans, can also be supplied as VOC value in ppm.
View PDF Datasheets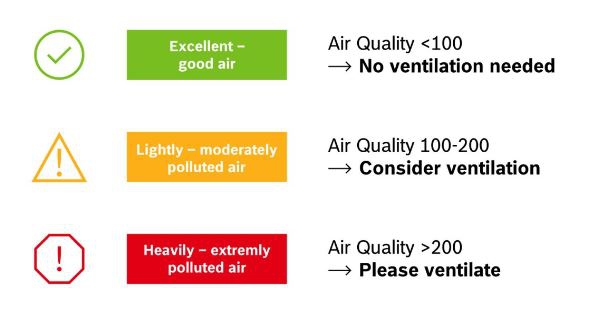 Features
World's Smallest & Slimmest Particle, VOC and Barometer Sensors
Unique patented technology with built-in air pump
Low-power Consumption
Long life
Silence
Excellent Electro-Magnetic Susceptibility
Water-proof and Dust-proof (for G200GAS SENSOR MODULE)
Benefits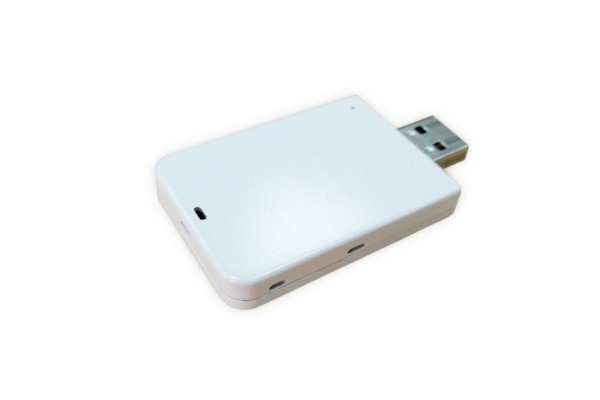 (Product 1) USB-powered Air Quality Monitor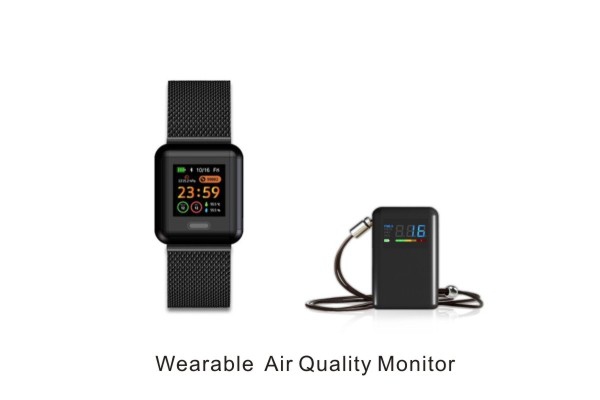 (Product 2) Wearable Air Quality Monitor
CurieJet® Sensors, with small and slim size, also very low power consumption, developers are flexible to design from fixed, desktop, portable to wearable air quality monitor and various Indoor/Outdoor AIOT air detector devices.
(Product 3) Smart Air Purifying Air Quality Monitor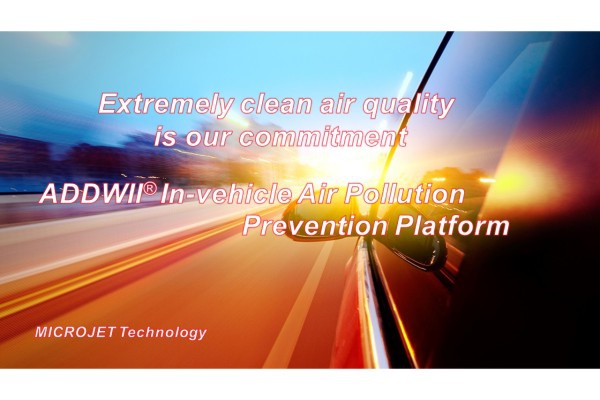 (Product 4) In-Car Air Pollution Control
Air Sensing Applications
Personal Wearable or Mobile PM2.5/PM10/IAQ/TVOC/VOCs/eCO2/CO2 Air Quality Monitors/ Gas Detector/AirBox, may integrate GPS, NB-IOT and other AIOT functions.
Air Monitor Adapter/USB Dongle external powered by any USB power source of Mobile Phone, Pad, Notebook, Power Bank, Car USB Power Outlet, etc.
Mobile Phone, Phone Case, Tablet PC or Notebook built-in Air Monitor modules.
SmartWatch, Smart WristBand, Fitness Tracker, GPS Tracker, etc. built-in Air Monitor modules
Wearable Devices such as Smart FaceMask, Smart Clothing, Smart Textile, Smart Belt, Smart Necklace, Brooch, Bag Clip, Bracelet, etc. with Mobile Phone APP
Portable Devices such as Mobile PowerBank, Bluetooth Speaker, Smart Speaker, etc.
Baby Monitors & Baby Carriages Air Quality Monitoring
Personal /Car Air Purifiers built-in air monitor modules
Smart Remote Controls built-in P750 air monitor modules for intelligent Air Purifiers, Air Conditioners & HVAC Ventilation System
Personal Negative Ion Generator, Wearable Air Purifier built-in air monitor modules
Electronic Nose, e-Nose, Oder Meter, Gas Analyzer, Breathalyzer, Breath Alcohol Tester
Temperature & Humility Meters, Thermometer, Particle Counter, etc.
Smart IOT, Smart City, Smart Building and Smart Factory such as Public Air Quality Monitor, Intelligent Street Lamp, Security & Surveillance Camera Monitor, HVAC(Heating, Ventilation and Air Conditioning) etc.
Digital Barometer with air monitoring
Aerial Drone or Unmanned Aerial Vehicle for Air Quality Monitoring & Altitude measuring
Air purification robot, Vacuum cleaner dust sensor
ADDWII® APP
ADDWII APP is available under licensing to support various functions. ADDWII APP support Air Quality Status, Histogram, Camera Shot, Air Map, Personal Trail, Knowledge Info, Account, etc. and create BIG DATA via AI in CLOUD to make the end products become IOT and AIOT devices.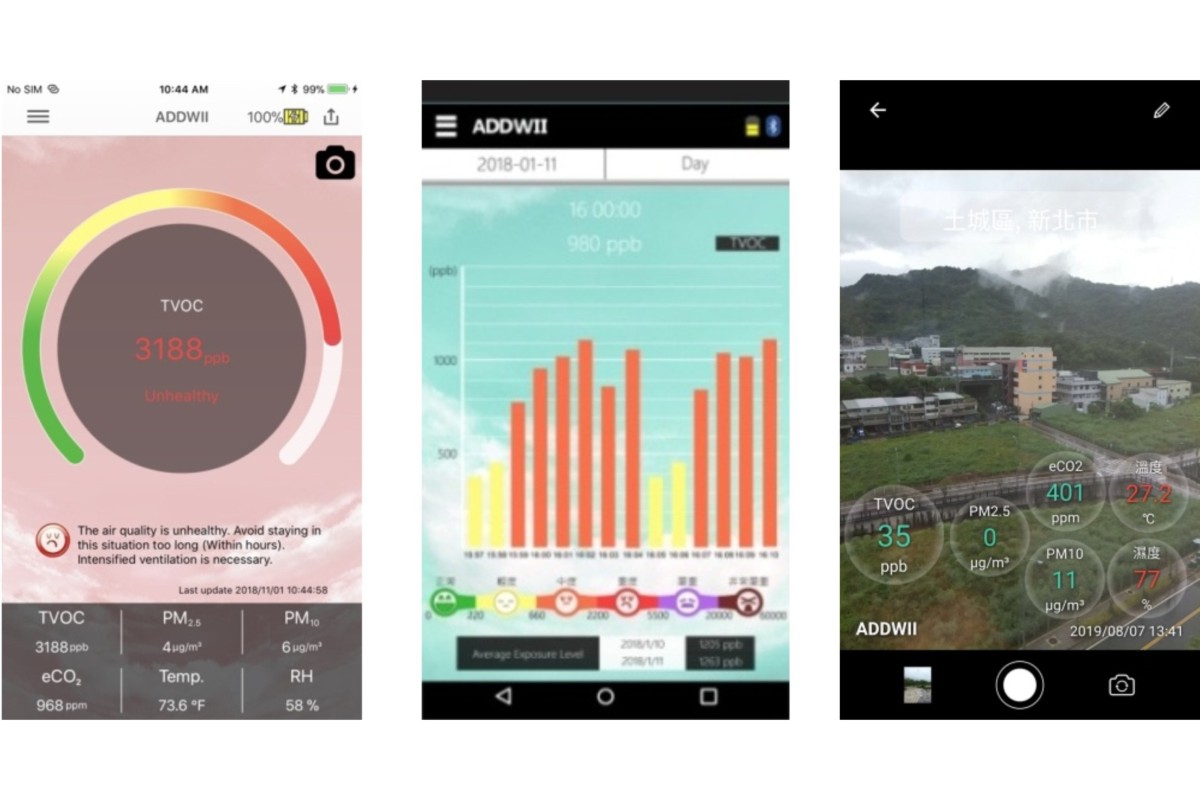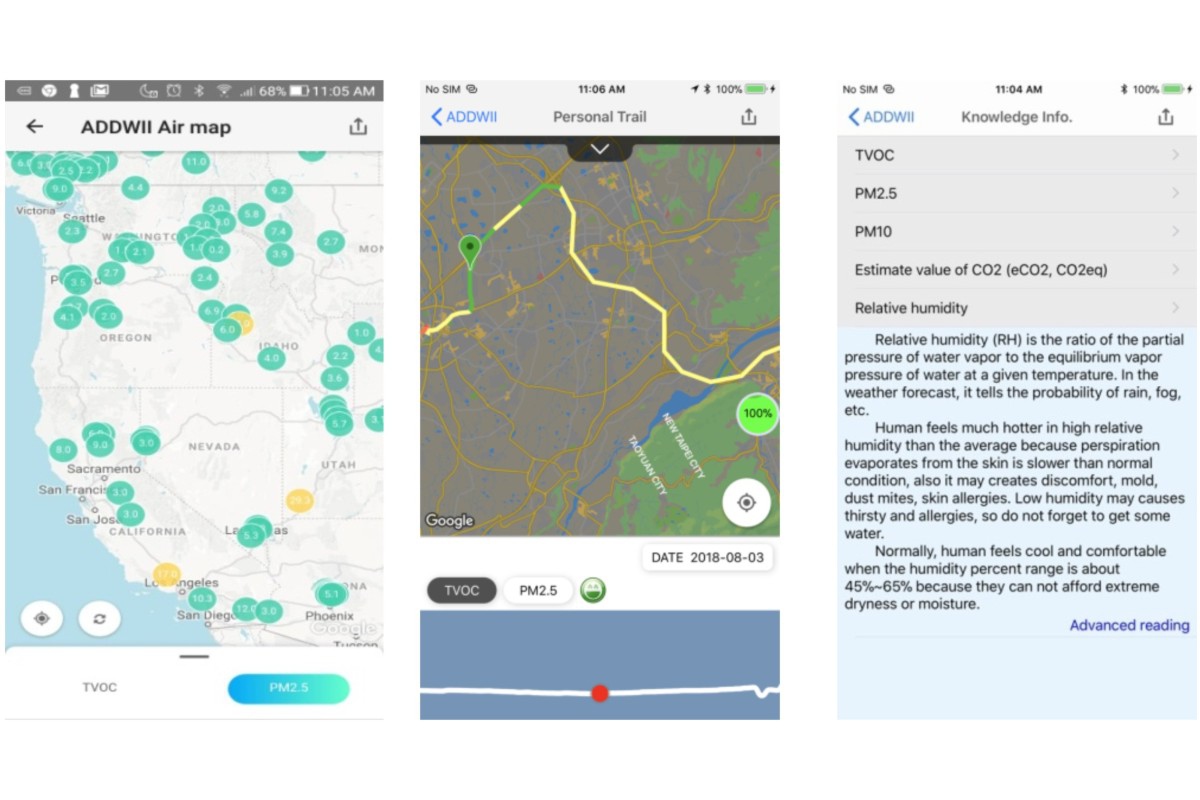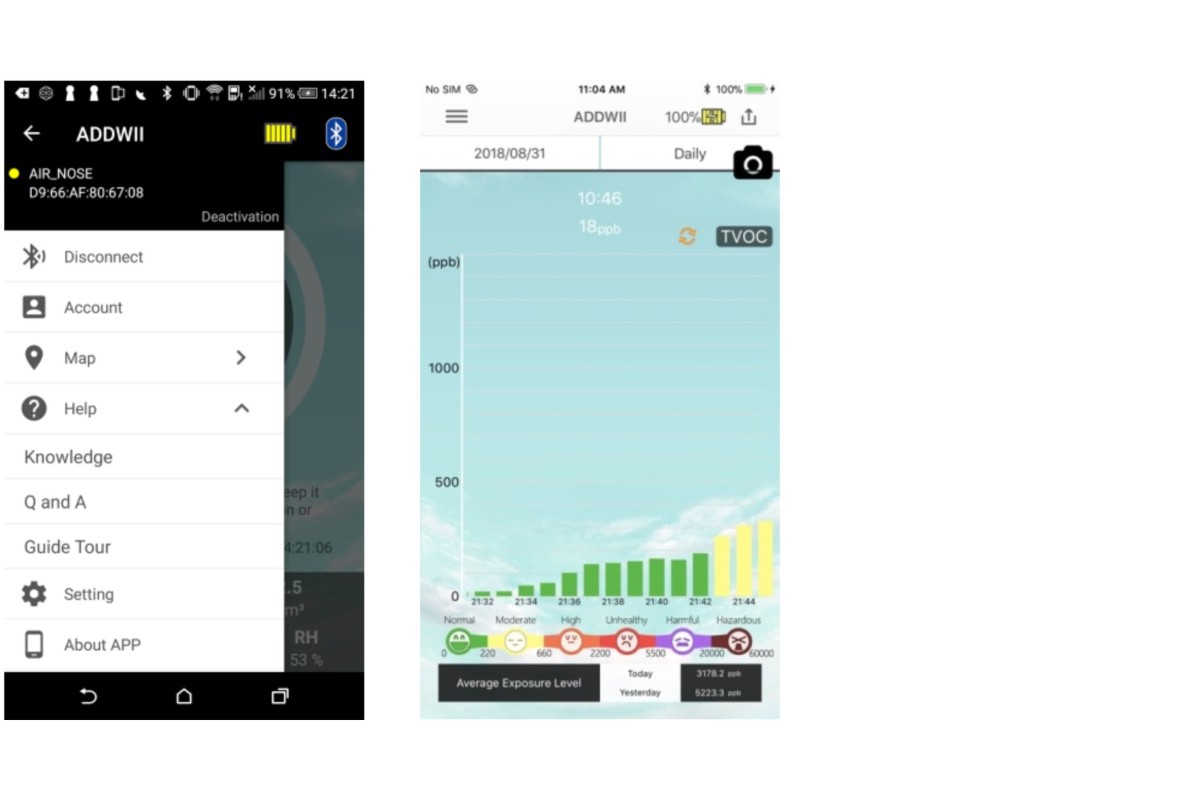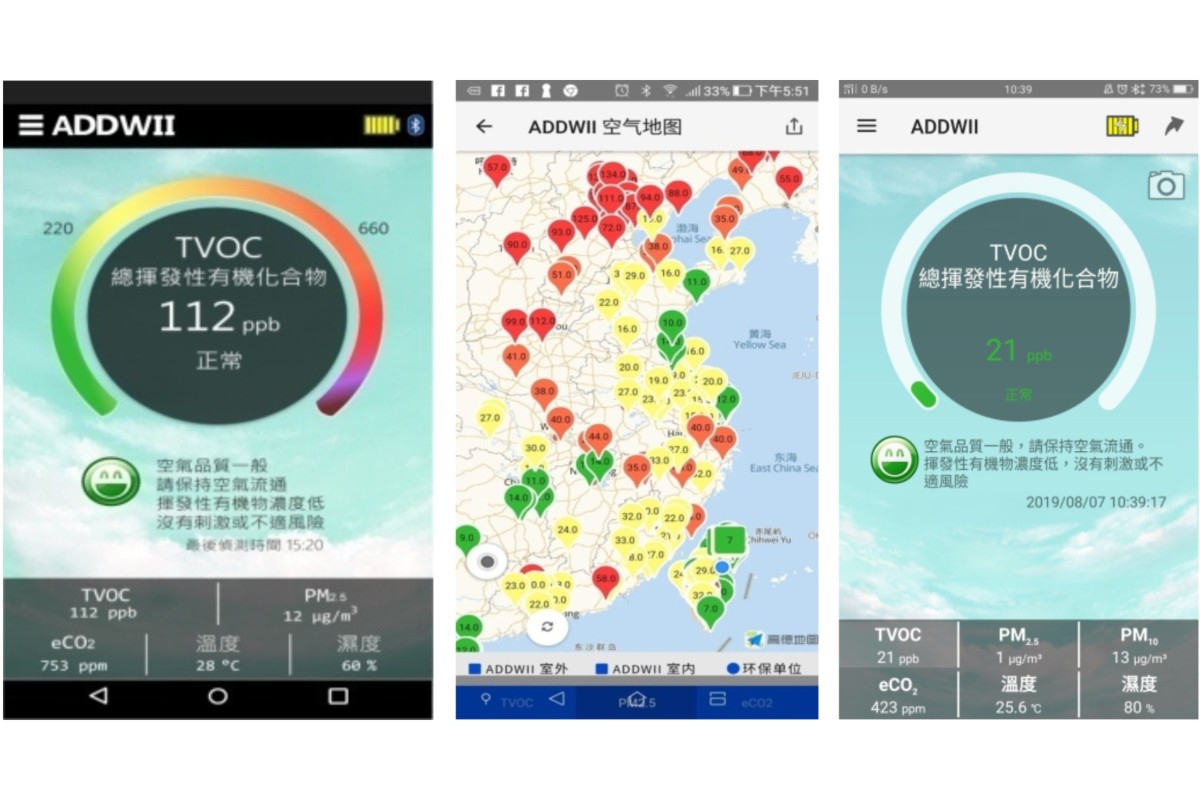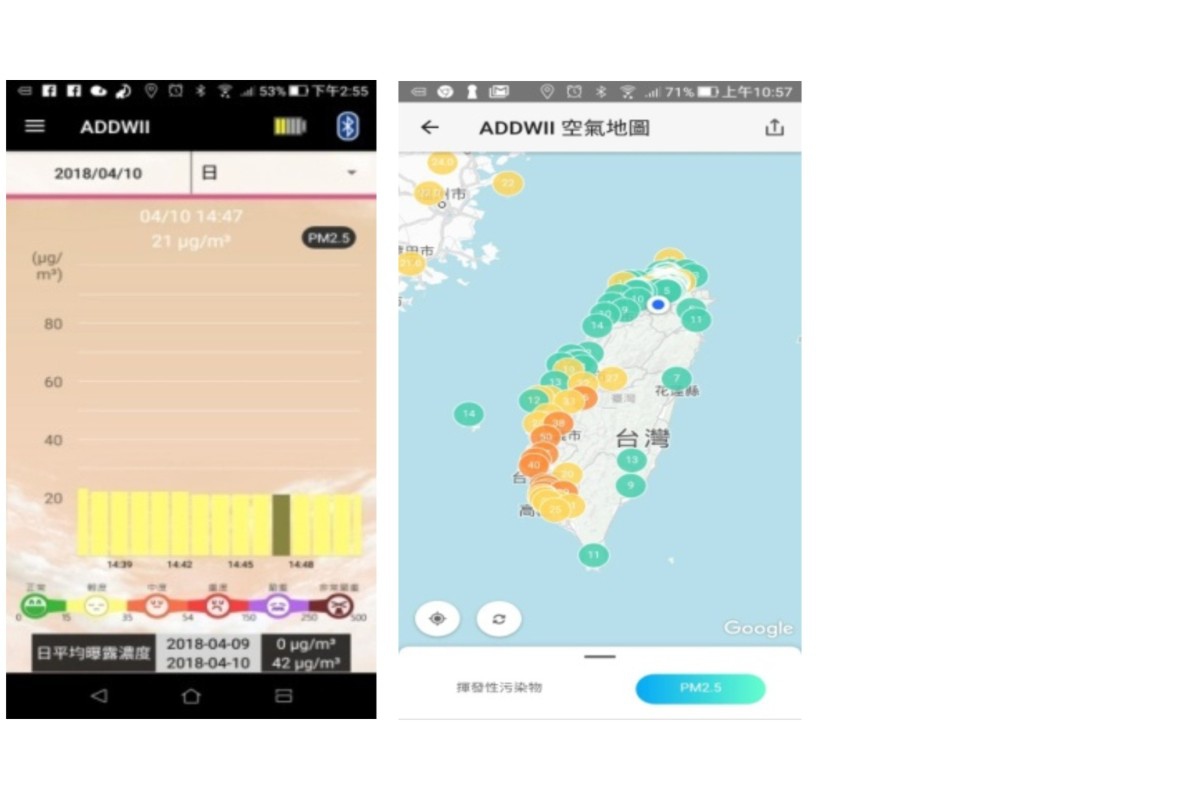 About us
CurieJet® is the marketing brand of Microjet Technology's Piezoelectric Micro Fluidics products. We have applied more than 1,600 patents worldwide on micropumps & related products. Mostly are invention patents.
CurieJet Website