- CurieJet® high-density sensors for in-car extremely clean air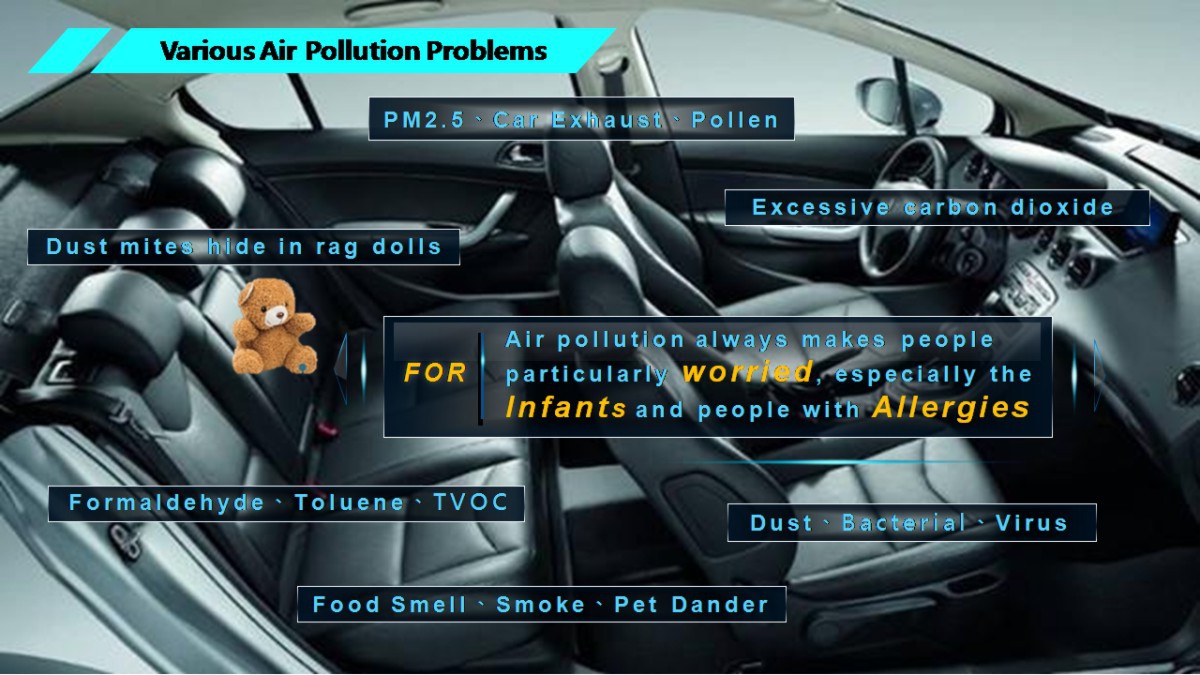 In-Car Air Pollution Problems
Due to the rapidly changing environment outside/in the vehicle while driving, and due to the limitation of the interior space, the in-car air pollution control has always been a great challenge. People don't know how the cabin air filters in a vehicle can really help remove harmful pollutants.Also lack ofthe integration with car air purifiers. Above problems arise from lacking of highly integrated and sensitive environmental sensors to real-time monitor the air quality in the car.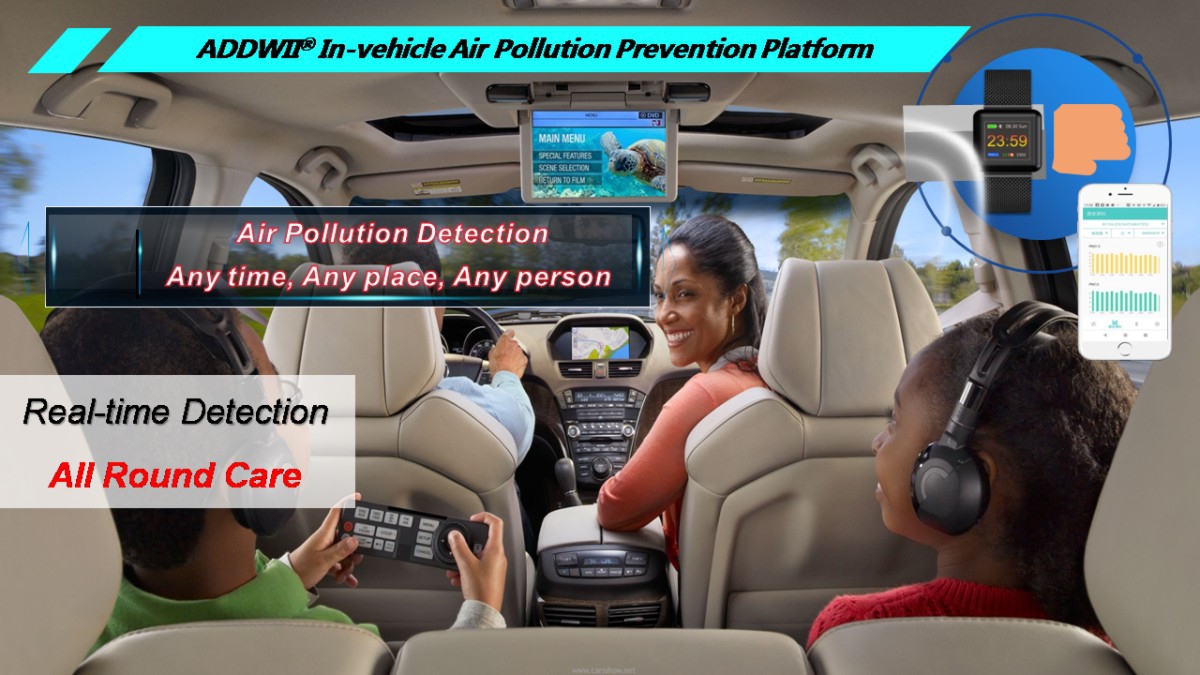 Air pollutions are mainly in Particulate matters(PM)and Gaseous pollutants forms. Particulate matters(PM)air pollution may be measured in PM2.5, PM10 and even PM1.0 level fine particulate matters and dust. Gaseous pollutants air pollution may be measured in VOCs(Volatile Organic Compounds) volatile harmful gas, formaldehyde (HCHO/ CH2O) or other cancer-causing material.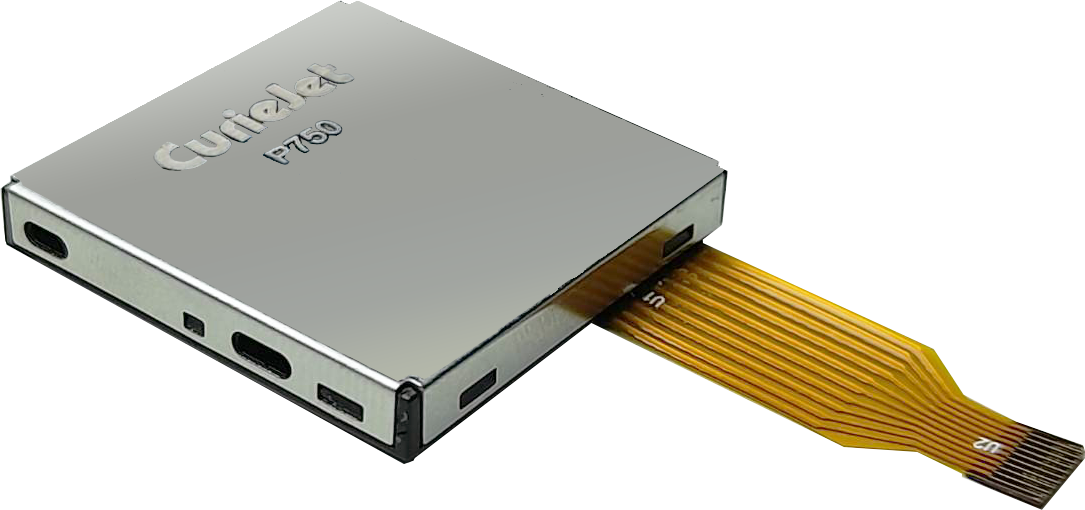 Why Tiny & Thin Automotive Air Quality Sensors?
Now, thanks to the world's smallest and thinnest CurieJet® P750 air quality sensor, automakers can embed it in smart cockpits, car displays, dashboards, GPS satellite navigation systems, tablet computers, and even speed warning devices and HUD head-up displays, Car audio host, Advanced Driver Assistance System (ADAS), and even enable the car air conditioning filter or car air purifier. When the external circulation mode of the car air conditioner is turned on to improve the ventilation, the CurieJet® P750 can verify whether the car air-conditioning filter need to be updated, or need to install a car air purifier to achieve the extremely clean air quality.
Real-time In-Car Air Pollution Monitoring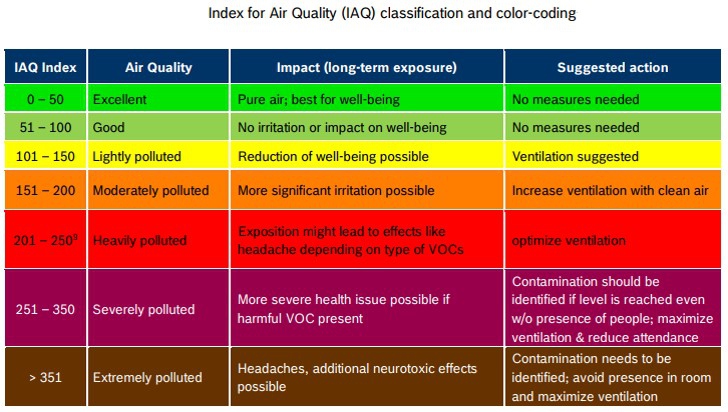 P750 is the world's smallest & slimmed patented air quality sensor and use laser light with Mie scattering theory to measure PM2.5, PM10 and even PM1.0. P750, with size only 29x 29x 4.9 mm, is the world's smallest all-in-one air sensor with only 1/16 volume compared with others. P750 also integrates a VOC Index BME680 Environmental Sensor by customized air pump, air chamber and MCU. VOC Index values from 0~500 to show the TVOC level. Upon request, Atmospheric Barometric Air Pressure measurement can also be supported.

Please refer BME680 sensor for VOC Index and Barometric Pressure. https://www.bosch-sensortec.com/products/environmental-sensors/gas-sensors-bme680/
Detect changes in driving height
The CurieJet® P750 has a built-in air pressure sensor. The driving system can also calculate the altitude difference, which can easily integrate and provide information on the slope, climbing height, uphill height and downhill height of the vehicle. The air pressure sensor information can correct the GPS navigation device to make 3D positioning more accurate. For example, it can correct the error caused by the GPS in the viaduct because it cannot determine whether the vehicle is on the bridge or under the bridge.
Poor ventilation warns of fatigue driving
CurieJet® P750 can also customize the vehicle interior ventilation index with artificial intelligence algorithms, and provide a warning if the vehicle interior ventilation may be poor to reduce the risk of fatigue driving.
Drunk Driving Prevention
CurieJet® P750, due to built-in BME680 VOC Sensor, may also be developed as alcohol breath tester for drunk driving prevention.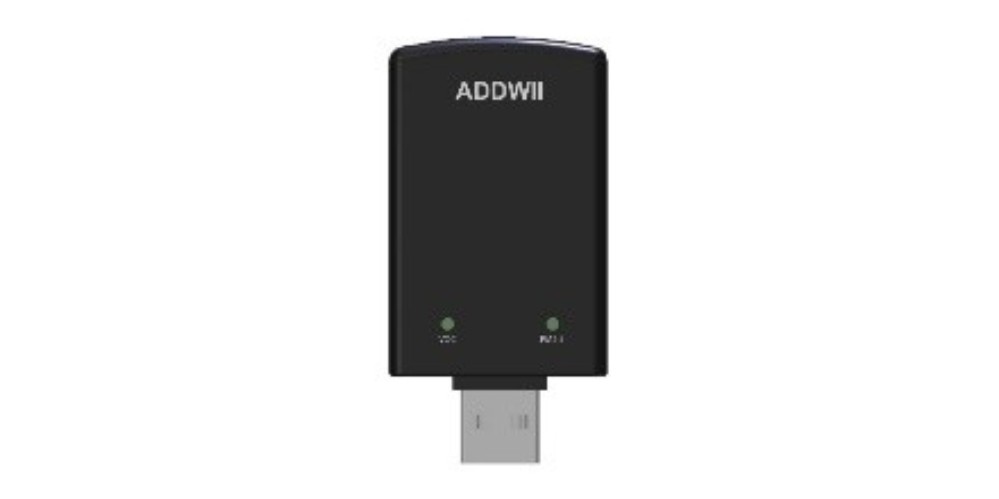 EVM (Evaluation Board)
We can supply USB-powered air quality monitor (A01) as EVM Evaluation Board for P700/P750. A01 includesP700/P750&BLE Bluetooth and works under Android or iOS APP. A01 are powered by USB and are very compact design for In-Car Air Pollution Control. Click Here
A New Era of In-Car Smart Air Sensing
The development of automotive sensors has created a new era in the automotive industry. Whether it is traditional fuel vehicles, electric vehicles, or future self-driving cars, CurieJet® leading as the world's smallest and thinnest air quality sensor, assist car manufacturers and the Internet of Vehicles industry to establish an in-car air pollution prevention platform for ultimate clean air quality.
About us
CurieJet® is the marketing brand of Microjet Technology's Piezoelectric Micro Fluidics products. We have applied more than 1,600 patents worldwide on micropumps & related products. Mostly are invention patents. CurieJet Website